Skip to Content
Introduction
---
Our site provides important information that will help you become familiar with our practice. It also contains answers to frequently asked questions. Please feel free to call us anytime 410-879-4363. We appreciate this opportunity to introduce ourselves and look forward to providing you with quality, comprehensive dental care.
We want you to know that in our office you can expect to be treated with respect at all times. We strive to deliver the best diagnosis and treatment that dentistry has to offer. We believe that these goals can be met through a continuous and open dialogue between you and our entire team.
We encourage you to involve yourself in your own treatment and ask questions throughout our relationship. In our opinion, an informed and involved patient is most likely to achieve the highest level of healthcare. We look forward to working with you to achieve this goal.
Mission Statement
---
Our dedicated Dental Team is excited and committed to using continuing education, innovative technologies and artistry to promote exceptional comprehensive dental care to generations of families.
We treat people with integrity and respect.
In return for our efforts, our loyal patients enthusiastically mission for us in a relationship that results in superior dental health.
We are good people working hard to provide the very best.
First Visit
---
On your first visit a comprehensive examination along with a series of digital x-rays, photographs and a digital Wellness Scan will be done. This will help determine what kind of cleaning you will need to get you started on the road to good oral health. Occasionally, your routine dental cleaning may be performed the same day as the consultation provided an appointment is made with one of our hygienists. However, a complex medical history or treatment plan will require an evaluation and a second appointment to discuss treatment on another day.
Please assist us by providing the following information at the time of your consultation:
Any x-rays if applicable
A list of medications you are presently taking
If you have medical or dental insurance, bring the necessary completed forms. This will save time and allow us to help you process any claims
Please alert the office if you have a medical condition that may be of concern prior to any dental treatment (i.e., diabetes, high blood pressure, artificial heart valves and joints, rheumatic fever, etc.) or if you are currently taking any medication (i.e., heart medications, aspirin, anticoagulant therapy, etc.)
IMPORTANT: All patients under the age of 18 years of age must be accompanied by a parent or guardian at the consultation visit.
New Patients
---
When you first visit us, we ask you to complete your forms (form) ahead of time. Please click the button below & complete the provided online form.
Scheduling
---
We will schedule your appointment as promptly as possible. If you have pain or an emergency situation, every attempt will be made to see you that day.
We try our best to stay on schedule to minimize your waiting. Due to the fact Drs. Ver Brugge, Phillips and Nagle provides many types of dental services, various circumstances may lengthen the time allocated for a procedure. Emergency cases can also arise and cause delays. We appreciate your understanding and patience.
Please call us at 410-879-4363 with any questions or to schedule an appointment.
Monday: 8:20 AM – 7:00 PM
Tuesday: 8:20 AM – 5:30 PM
Wednesday: 8:20 AM – 5:00 PM
Thursday: 8:20 AM – 6:00 PM
Friday: 8:20 AM – 2:00 PM
Financial Policy
---
For your convenience, we accept Visa, MasterCard, Discover and American Express. We deliver the finest care at the most reasonable cost to our patients, therefore payment is due at the time service is rendered unless other arrangements have been made in advance. We also offer many flexible financing options such as Care Credit which offers manageable monthly payments that allow you to get the treatment you need right now.
To learn more about our affordable payment plans with CareCredit, click the logo below to start your CareCredit application process now.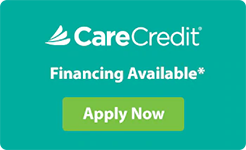 If you have questions regarding your account, please contact us at 410-879-4363. Many times, a simple telephone call will clear any misunderstandings.
Please remember you are fully responsible for all fees charged by this office regardless of your insurance coverage.
We will send you a monthly statement. Most insurance companies will respond within four to six weeks. Please call our office if your statement does not reflect your insurance payment within that time frame. Any remaining balance after your insurance has paid is your responsibility. Your prompt remittance is appreciated. We can make arrangements for a monthly payment plan but this must be done prior to the actual procedure.
Get a Lifetime of Dental Care