Skip to Content
Understanding Dentures
Learn more about full and partial dentures.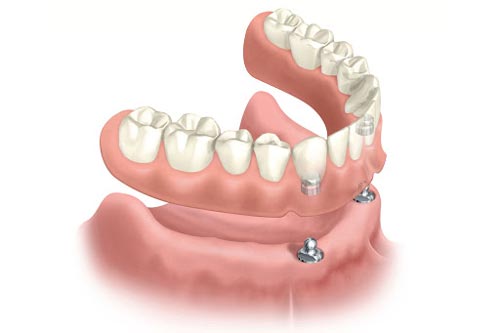 Locator Bar Overdentures
When a situation calls for an overdenture bar, the Locator bar attachment's patented pivoting technology provides for pivotal resilience, self-aligning features, superb retention and exceptional durability, all in a low profile design.
Implant Supported Dentures
Implant overdentures have attachments that hold the denture in place by connecting directly to implants or an implant bar. Although still removable, implant overdentures significantly improve chewing function and quality of life compared to traditional dentures.
Locator Overdentures
The Locator implant attachment is the premier system for implant-retained overdentures. According to recent studies, a two implant-retained, tissue-supported prosthesis is considered the new standard of care for the edentulous patient.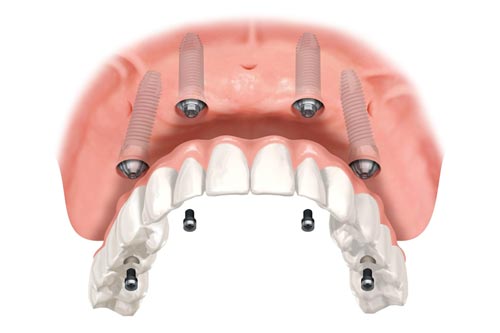 Fixed Screw Retained Complete Dentures
Fixed implant-supported bridges offer the maximum amount of stability and chewing function by permanently attaching to the implants. These restorations can only be removed by a dentist and thus come closest to the form and function of natural teeth.
Spark Erosion Bar Complete Dentures
Using precise electro-machining, the removable Spark Erosion fixed bridge is held in place with the aid of two swivel latch attachments. This unique and proven design combines the benefits of a fixed bridge restoration with the advantages of a removable prosthesis, including easy hygiene access and proper design for lip support and phonetics. Compatible with all implant systems, Spark Erosion is the ideal solution for treatment of the edentulous maxillae and mandible, and for partially edentulous trauma cases.
Conventional Full Dentures
All remaining teeth are removed and gum tissue is given time to heal before the dentures can be in place. It can take a few months for gums to heal completely and it is important to remember that during this time you will be without teeth.
Upper and lower dentures are fabricated to closely resemble a natural full set of teeth.
Several appointments are necessary to assure fit and comfort.
Immediate Full Dentures
Denture fitting measurements are taken prior to having remaining teeth removed.
After the teeth are removed, these dentures are placed on the gums. The benefit to immediate full dentures is that there is not a time when you will be without teeth. You will, however, need to have follow-up visits to adjust and refit the dentures as gum tissue heals. This adjustment period may take a few months and the dentures will need to be relined to fit more closely once the jaw is healed.
Partial Dentures
If you are missing many teeth, but want to maintain your remaining teeth, consider a partial denture to give you better chewing abilities and improve your comfort.
Partial dentures are also an option when you have a number of remaining healthy teeth, but are not ready for full dentures.
Similar to a bridge, a partial denture fits within the teeth you have and over your gums, but is not a permanent fixture in your mouth.
Get a Lifetime of Dental Care